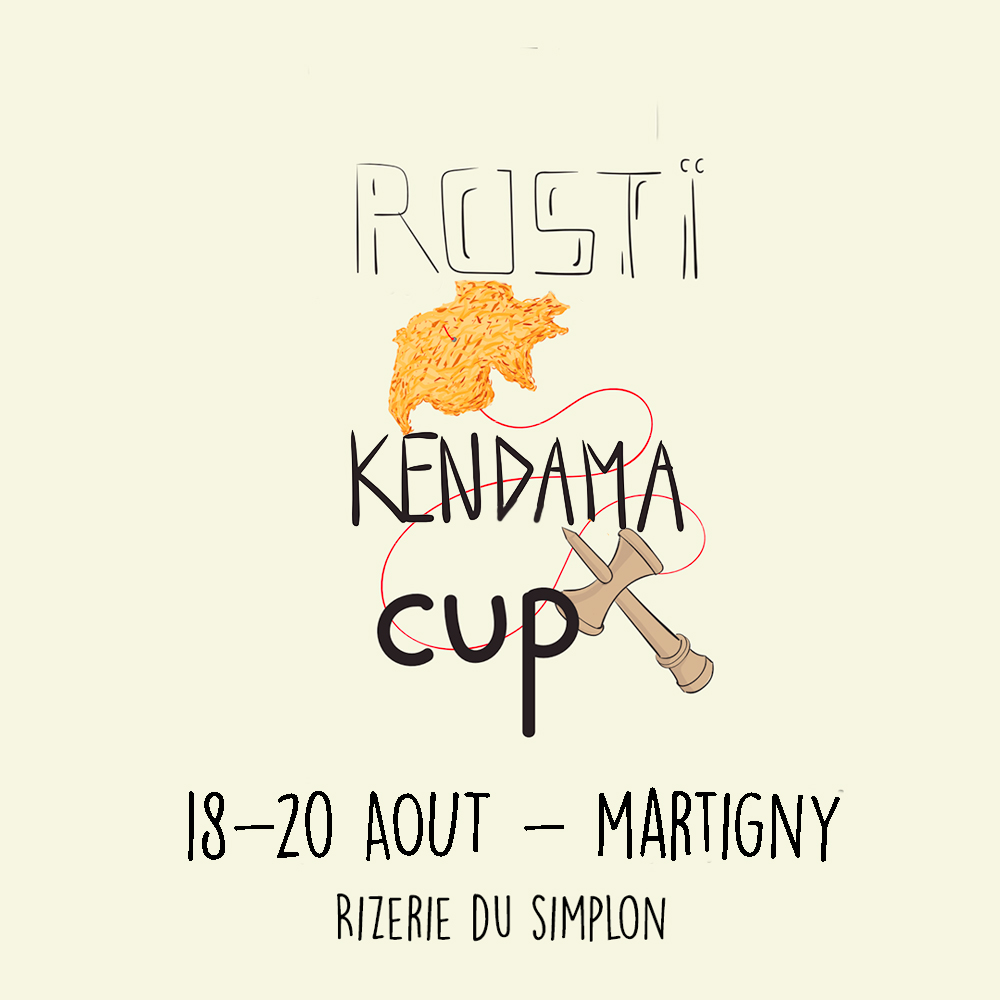 Rösti Kendama Cup is back for the 4th edition !
❔ What is the Rösti Kendama Cup?
Organised by Swiss Kendama, the Rösti Cup is the 4th edition of a much-anticipated event in the Kendama community in Switzerland and our neighbouring countries.
We are organising a competition with representatives of the major kendama brands and some extremely talented players. Whether you want to take part or just come along as a curious visitor, you'll be amazed!
On-site, all you need, kendama shops, music, bar, lights to sesh all night.

🌍Access
In the garden of La Rizerie du Simplon, you'll be transported into a magical world. For the last 3 years, a group of artists have been devoting their time and energy to building a structure in the shape of a gigantic flower made from woven branches, so you won't be ready.
Access is free

🚩 Location of the event (gardens of the Rizerie du Simplon):
You can park for free in the surrounding area.
https://goo.gl/maps/z6Jvff33Gbei6ZBM6

🏠 Accommodation

🏠 We've hired a gym to allow everyone to stay as cheaply as possible.
🚨 Take something to sleep in, sleeping bag and mattress. 🚨
🚶‍♂️ The venue is a 15-20min walk from the event venue, you can easily park next door for free.

🚩 Access to the gym guesthouse
You can park for free in the surrounding area.
🗺 https://goo.gl/maps/oCMBAwPLMi3LR5gD8

⚔ Competition
For the competition, we'll have 4 categories, for all levels!
Beginner - Intermediate - Advanced - Freestyle
Please register in the category that suits you.

📅 Schedule
Friday 18
18:00 early bird, pre-sesh at Cocosane
19:30 Pizza delivery
20:00 3v3 basketball

Saturday 19
12:15AM Events starts, venue opens, serving dinner
13:00 registration closes
13:15 beginner speedladder
14:00 intermediate speedladder
14:30 intermediate top 8 bracket
15:00 advanced open starts
16:30 advanced open top 8
17:30 advanced finals
18:00 picking raffle winners
18:15 freestyle qualification round
19:00 freestyle top 8 finals
20:00 DJ afterparty starts & Kendama jam continues
02:00 Event closes

Sunday 20
Chill day, sesh at Gouille du Rosel, Martigny

🏷 Tickets
Access to the event is free, there is a registration fee for competition participants.

DAY COMP PASS : 15 CHF
Contest entry + 1 free drink

1 NIGHT GUEST PASS : 30 CHF
gym sleep for 1 night with breakfast + 1 free drink

2 DAY 1 NIGHT COMPETITION PACKAGE : 40 CHF
Contest entry + saturday night gym sleep with breakfast + 1 free drink

3 DAY 2 NIGHTS COMPETITION PACKAGE : 70 CHF
contest entry + friday/saturday gym sleep with breakfast + 1 free drink